The Avengers Assemble Wiki is a guide for the source of information about Avengers Assemble. Everyone who has a fonding to the series can come to edit the articles and provide information about the series. The users can also correct the mistakes of others in the article, if there are suggestion or you need help about certain articles, you can ask the administrators of this wiki.
Articles
Every article should have a name, if something has been shown and hasn't identified, but it is identifiable from the Marvel comic series it can use that name, but it should be noted in the references that it is conjectural. Article names should be singular, not plural (for example, "Iron Man" should be "Iron Man"), except for groups (for example Avengers). If an article is incompleted to the standards, it should have a stub on top of the article. The first appearance of the title of the article should be in bold type.
Images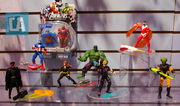 Images are usefull to contribute the explanation for certain actions, character(s) or thing(s), for example.--->
The images that the users upload to the wikia, should be ones without the logos of the series where it airs.
It's still up to debate if this wiki will have an image policy.
Sourcing
Every bit of information that is provided in the wikia should be cited. It makes it verifiable, easier to track and makes it easier to summarize the articles and let it link to the rest.
Writing
In universe perspective
The articles should be written as you are in the universe writing information in the article. Except for the Episode article and the character article's Behind the scenes section.
Spelling and grammar
This is mandatory and self explained that the users on this wiki should provide understandable words with good use of spelling.
Character articles
The character article's name should be his super hero alias, as the character is currently most known about in the series. The following order of each character article must be listed as:
Short summary of the character's article.
Biography
Personality traits
Powers and abilities
Armor
Behind the scenes
Appearances
Notes and references
Episode articles
The following order of each episode article must be listed as:
Logline
Synopsis
Cast and characters
Trivia
Cultural references
Goofs
Quotes
References
Ad blocker interference detected!
Wikia is a free-to-use site that makes money from advertising. We have a modified experience for viewers using ad blockers

Wikia is not accessible if you've made further modifications. Remove the custom ad blocker rule(s) and the page will load as expected.