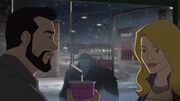 Synopsis
Following Truman Marsh replacing Hulk with Red Hulk, the Avengers fight off an invasion of Rock Trolls. Afterwards, the Avengers must stop Leader from building and unleashing his secret weapon with stolen A.I.M. technology even when he uses Ultimo on them. Meanwhile, Hulk had been placed in an obedience collar and wanders around while figuring out what to do next.
Trivia
Red Hulk start joining the Avengers since "U-Foes.
Ad blocker interference detected!
Wikia is a free-to-use site that makes money from advertising. We have a modified experience for viewers using ad blockers

Wikia is not accessible if you've made further modifications. Remove the custom ad blocker rule(s) and the page will load as expected.