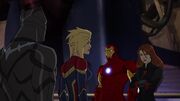 Synopsis
With the Avengers disassociated with the government amongst the Inhuman Registration Act, Truman Marsh assembles The Mighty Avengers (consisting of Ant-Man, Black Panther, Captain Marvel, Ms. Marvel, Red Hulk, Songbird, and Vision) to take their place where they first fight against Baron Strucker and HYDRA with the Avengers after them. Later on, the Avengers work to keep the Mighty Avengers from taking the Inhumans Haechi, Flint, and Iso into custody.
Ad blocker interference detected!
Wikia is a free-to-use site that makes money from advertising. We have a modified experience for viewers using ad blockers

Wikia is not accessible if you've made further modifications. Remove the custom ad blocker rule(s) and the page will load as expected.