Crossbones
Biographical information
Real name

Brock Rumlow

Alias

Crossbones

Physical description
Gender

Male

Hair color

Brown

Eye color

Black

Personal information
Status

Alive

Relatives

None

Equipment

None

Chronological and political information
Profession

Super-Villain

Position

Member of Hydra

Affiliation
First appearance
Voiced by

Crossbones (real name Brock Rumlow) is a supervillain and enemy of the Avengers, most notably Captain America. He is a Hyrda assassin-turned-mercenary.ascio
Biography
Crossbones was captured by the Avengers along with Grim Reaper. Captain America disguised as him. Along with Iron Man as Grim Reaper he tried to infiltrated the Cabal's submarine base. This succeed. Later Attuma came at the submarine. Some Seconds later M.O.D.O.K. opened Iron Man's Suit. After that They were discovered by Attuma.
Crossbones has been hired by Ulysses Klaue to target T'Challa at the assembly that he is speaking at only to end up fighting Captain America. With unlikely help from Black Panther, Captain America defeats Crossbones.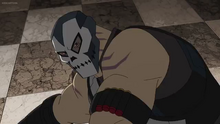 Appearances
Abilities
Immense Physical & Mental Attributes: He has shown great physical ability, enough for him to go toe to toe with Captain America and Spider-Man when both of them are holding back.
Pain Immunity: He has shown no pain when hit by bullets
Ad blocker interference detected!
Wikia is a free-to-use site that makes money from advertising. We have a modified experience for viewers using ad blockers

Wikia is not accessible if you've made further modifications. Remove the custom ad blocker rule(s) and the page will load as expected.