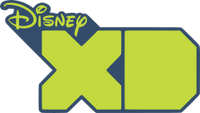 Disney XD is a basic cable channel and multi-platform brand, owned by the Disney-ABC Television Group division of The Walt Disney Company showcasing a compelling mix of live-action, animation, movies and short-form, as well as sports-themed programming developed with ESPN, aimed primarily at children and young adults. Disney XD branded content spans television, online, mobile and VOD platforms.
First broadcast in the United States, there are now several Disney XD channels operating in multiple countries including, Japan, Australia, Mexico, United Kingdom, Republic of Ireland, and Canada. Disney XD has broadcasted and aired many programs, including Pair of Kings, Kid vs. Kat, Mr. Young, Lab Rats, Kick Buttowski: Suburban Daredevil, Jimmy Two-Shoes, Zeke and Luther, Ultimate Spider-Man and Marvel's Avengers Assemble.
External links
Ad blocker interference detected!
Wikia is a free-to-use site that makes money from advertising. We have a modified experience for viewers using ad blockers

Wikia is not accessible if you've made further modifications. Remove the custom ad blocker rule(s) and the page will load as expected.