Spider-Man
Talk

0
170pages on
this wiki
Spider-Man
Biographical information
Real name

Peter Benjamin Parker

Alias

Spider-Man
Spidey
Slinger
Man of Spiders

Physical description
Gender

Male

Hair color

Brown

Eye color

Blue

Personal information
Status

Alive

Relatives

Ben Parker (uncle; deceased)
May Parker (aunt)

Equipment

Web Shooters
Spider-Cycle

Chronological and political information
Affiliation
Voiced by

Drake Bell
Spider-Man, (real name Peter Benjamin Parker), is a superhero and a reserve member of the Avengers.
Biography
Personality and Traits
As Spider-Man, he is goofy and childish who often cracks multiple jokes. But he is also very serious and motivated whne the time comes. 
As Peter Parker, he is mature and intelligent, while also hormonal as most teenagers are.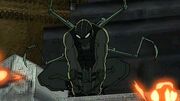 Relationships
Iron Man  -  Mentor/Ex-Partner and Fellow Avenger
Falcon - Former Teammate and Fellow Avenger
Powers and Abilities
Genius Intelligence Level: Peter is a genius, and has an I.Q of 205. He is more intelligent than some of the finest professors in the world. He was even able to find a antidote for a disease on his own, be able to operate Iron Man's armor, and other extraordinary feats that would require genius intelligence. 
Superhuman Strength: Spider-Man possesses superhuman strength, he is strong enough to easily destroy mechanical robots from S.H.I.E.L.D and hold many tons of weight when needed. It is stated that Spider-Man can lift in max about 20 tons. [5]
Superhuman Durability: Spider-Man's body is physically tougher and more resistant to some types of injury than the body of a normal human. He has endured blows from beings with strength much greater than his own, fallen many meters in the air, and even been hit through steel walls.[5]
Superhuman Agility: Spider-Man is very agile and can easily do back flips in the air. [5]
Superhuman Reflexes: Spider-Man's reflexes are above even the finest human athlete. He has shown that he can dodge strikes from beings with supernatural speed, gunfire, and energy blasts.
Wall-Crawling: Being injected by the mutated spider, Spider-man can crawl along surfaces much like a spider would. [5]
Spider-Sense: Spider-Man can sense dangers that happens moments before it actually happens, which enhances his reflexes. It works like a alarm that sounds when danger is near.[5]
Superhuman Equilibrium: After being bitten by the mutated spider, Spider-man can balance himself on any object no matter small or narrow.[5]
Equipment