Official teaser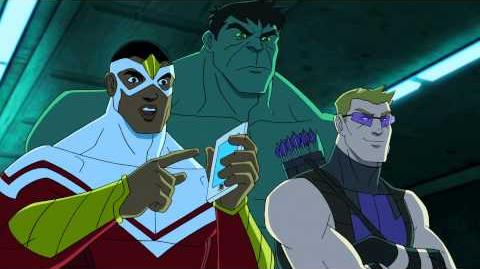 With less than three weeks until the one-hour sneak preview, Marvel is pulling out the preview machine for the upcoming "Marvel's Avengers Assemble". There has been so much mystery surrounding this show, and fans are dying to know whether it'll leave up to expectations or sink miserably. That all up for discussion of course.
Marvel knows the anticipation is heavy and has be trying to clam the fans, who are still in shock about the cancellation of the beloved Earth's Mightiest Heroes. So, in recent weeks, Marvel has been promoting the series like crazy. Comic previews, videos, toys (lots of 'em), and so much more. Earlier this week the first official video preview for the show was released onto the internet; enjoy.
---
Episode descriptions for the first two episodes of "
Marvel's Avengers Assemble
", airing together as part of a special hour-long preview event Sunday, May 26th, 2013 at 11:00am (ET/PT) on
Disney XD
's Marvel Universe programming block:
Original Series – Series Premiere
Marvel's Avengers Assemble "The Avengers Protocol: Pt. 1"
(11:00 AM – 11:30 AM ET/PT)
When Captain America is apparently destroyed by Red Skull, Iron Man re-unites the team to try and avenge his friend and stop Red Skull's army.
TV-Y7-FV
Original Series – Episode Premiere
Marvel's Avengers Assemble "The Avengers Protocol: Pt. 2"
(11:30 AM – 12:00 PM ET/PT)
When Red Skull steals Tony Stark's armor, the Avengers must put aside their differences and galvanize the team to stop him and M.O.D.O.K. from destroying New York City.
TV-Y7-FV
---
Source
Ad blocker interference detected!
Wikia is a free-to-use site that makes money from advertising. We have a modified experience for viewers using ad blockers

Wikia is not accessible if you've made further modifications. Remove the custom ad blocker rule(s) and the page will load as expected.